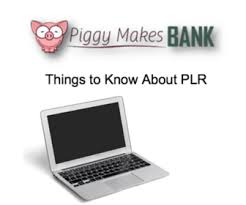 What Are Private Label Rights and Should I Use Them?
Perhaps you've been on the Internet a short time researching all your blog topics, and there's a question you have – what are private label rights and should I get me some?
Simply put, private label rights, also known as PLR, are products or articles that you can purchase and use as your own. The expression "use as your own" here means you can change them to fit your purposes. Here are some of the ways you can change PLR:
Put your name as the author.
Reshuffle paragraphs, take out or add new paragraphs.
Totally rewrite it.
Add additional information, such as your personal experiences
Add your keywords throughout.
Add any links you want in the PLR.
Change the conclusion so the PLR article pre-sells something (like an affiliate product).
The PLR can be totally unrecognizable when you're done, and that's perfectly fine because it's yours to mold into what you need. But before you get going with it and even before you buy, find out what the terms of service are. PLR providers don't necessarily all use the same Terms of Service so check them carefully each time you purchase. Here is an example of PLR Terms of Service:
[YES] Can put your name on as author.
[YES] Can edit the contents.
[YES] Can sell for personal use only.
[YES] Can be bundled into a paid package.
[YES] Can be added to a paid membership site (as long as it's not a PLR site).
[YES] Can be published as a CD, DVD, or physical book.
[YES] Can be offered as a bonus.
[NO] Can be added to a free membership site in any format.
[NO] Can be sold in dime sales or auctions.
[NO] Can pass along private label rights in ANY format.
Private label rights products, including PLR articles, are offered to more than one person. Some are limited to 50 buyers while others are free and distribution is unlimited. The key is to find good quality PLR and make them more unique to you so they fit your purposes.
Now to the second half of "What are private label rights and should I use them?" The answer is yes IF… you need content for your blog, newsletter, product, website, radio show, short reports, Squidoo lens, ecourses, etc.
If you only have one blog, chances are you can keep up with it. You can happily post every day or every other day and you live, eat, and breathe your one blog. You probably don't need PLR, except to help generate ideas and give you some completed research.
But many marketers have quite a few irons in the fire. They have several websites and like to use article marketing, Squidoo lenses, and keyword-rich posts as traffic generators. They also use newsletters, ecourses and free reports to encourage opt-ins to build their list. And for all these things, they need content, and lots of it!
Think of PLR as ready-made content. You'll want to change it around some to make it your own, but it can save you lots of time. The advantages are many, but perhaps the best is the time-saving factor. For example, if you don't have to write the content from scratch each and every time, you can post quite frequently, perhaps twice as often.
Posting more often means you've got constant fodder for the search engines – which they like, and that content is filled with your important keyword phrases – which you like. These two things will bring in the traffic!
Get your PLR from a trusted source, Piggy Makes Bank, where my friends, Tracy & Susanne, have been writing PLR since 2014, and get busy putting PLR successfully to work for you.