Are you using Gmail as your email provider? Or, maybe you are using Gmail to read your email (like I do).
Recently, it seems that the folks at Google have changed up some of their rules when it comes to getting your email sent into your inbox. A lot of mail has been ending up in the SPAM folder even though it was legitimate email.
You see, a couple of clients were expecting some important emails to come in and were waiting and waiting and waiting. Yet, they never came in. Emails were arriving in the inbox, but not some other important ones. And, emails that were being sent from their Contact page also seemed to never show up.
It turns out, however, that the emails they were awaiting were delivered yet they were found in the SPAM folder! Many people do not check the spam folder and therefore the email never gets seen.
The first action, therefore, is to make sure you are checking your spam (or junk) email to ensure that false positives are not left there only to be deleted naturally in 30 days.
To Check Spam & Trash
Gmail won't normally show you the messages that are sitting in your Spam or Trash folders.
Here's how to see search messages in Spam and Trash:
Open Gmail.
In the search box at the top of the page, click the Down arrow.
In the drop-down menu next to "Search," select Mail & Spam & Trash.
Enter your search information.
At the bottom, click Search.
How do you check your spam folder on Gmail?
If you want to go directly to your SPAM, scroll down the left side of Gmail  and you will see where it says, "More"

Click on More and you will see more!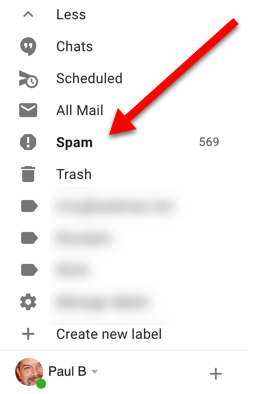 At this point, you will see all the emails that are in your spam folder!