On a coaching call the other night, one of the questions that came up was, "What is the best way to back up my WordPress Site? Doesn't my hosting company do that for me? Do I need to worry about it?"
Those are great questions!
As soon we we went through installing WordPress, one of the first things I talked about was making backups of your site. Unfortunately, Most people only think about backups when it is too late! It is only when your site gets attacked, or crashes, or you <gulp!> delete it (yup – I did that once!) Once the 'Oh My Gosh What Did I Do?!' fright subsided, I realized that I had to find a way to get it back. The first thing I did was to call my hosting company to see if they could restore it. Nope! Out of Luck! From that point on, I make backups religiously!
There are a few different solutions to backing up your site. A great free solution that I recommend to everyone is the WP-DBManager plugin.  You can install this simply by adding a new plugin and searching for 'WP-DBManager'. Once you activate it, you will get a new set of choices on the left side menu: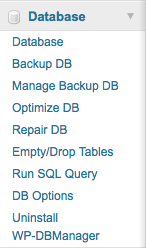 You can see there are a wealth of options available with this plugin!  For now, I just want to talk about the Backup DB option available. If you explore this plugin, you can begin to see the power that it brings! But Be Warned! If you are not sure what you are doing, STAY AWAY from things like Empty/Drop DB! You can delete all the content on your site!
Now that the Fear of God has been instilled into you (hopefully not – if you have any questions, post them as a comment here and I will be more than happy to answer them!) Click on the BackUp DB option. On the screen that is presented, there is an option at the bottom that says, "GZIP Database Backup File?" If you click Yes, this will compress your backup so it will take up less space.
Depending on the size of your database (and if there are limitations on your email system), you can email a copy of this back up to yourself by selecting the option, 'Manage Backup DB', selecting the most recent backup you created, and clicking the 'E-mail' button. This is a really good thing to do! It is best to have a backup in multiple locations! If you are making a backup of your home computer and you save it on your hard drive, all is lost in the event of a hard drive failure (or worse!) a fire! By emailing it to yourself, you can now retain a copy on your home computer while the original backup is hanging out on your server.
Let me warn you about 2 other things… First, it will display this message across the top of every page:

If you install this plugin, don't worry about this message – I will write a post on how to safely remove it.
The second limitation to this plugin is that this back up will not back up 100% of your site. It will back up the contents of your database only. That is its job – to back up the database. But, your site is more than just a database! It has your themes, plugin files, etc. I found a great tool to literally back up EVERYTHING! And by everything, I mean:
Pages & Posts (as well as the content in them)
Comments (if you have any)
Plugins (and their configurations)
Footer and header information
Tags & Categories
Permalink structures & privacy settings
Themes (including active themes and inactive ones!)
Affiliate links & links of any kind
EVERYTHING!
This tool is called WPTwin and is fantastic! I literally use it everyday to make a complete clone of my site as a backup. If anything ever happened (i.e., it got hacked, or my partner gets real angry at me, goes bonkers and deletes the site!) I can restore the site in under 2 minutes!

Here is a true story – one of my other websites, All About Gratitude, was hacked! I had a massive Link Injection attack (this means someone else went and put in all sorts of links on my pages and posts – and link to buy drugs, and other things!). It took me probably 8-10 hours of manually going into each post and cleaning up the rogue links! It was HORRIBLE! That was before I had WPTwin. If that happens today, I can simply revert to previous night's backup (which is automatically created for me). In under 2 minutes, everything is back to normal!

WPTwin is my lifesaver now! I install it on every site I have! The only drawback to this tool is that it is not free. At the time of this writing, it is under 100 bucks which is well worth the functionality it provides (let alone the hours and hours of work it would save me in the event of another sort of mess occurring!)

[This post was originally written back in 2011, however it has been updated in 2014 – both of the plugins discussed are still valid.]