Sometimes I think I am living under a  rock.
I thought I found a new plugin to test – well it turns out it has been out for a few months now! Maybe you already know about it, maybe not.
I am talking about a plugin written by GoDaddy and it is called P3 (Plugin Performance Profiler). According to its description,
This plugin creates a profile of your WordPress site's plugins' performance by measuring their impact on your site's load time.  Often times, WordPress sites load slowly because of poorly configured plugins or because there are so many of them. By using the P3 plugin, you can narrow down anything causing slowness on your site.
Since I am always sharing ways to speed your site up (as well as  eliminating the slow downs), I thought I would try this out and let you all know what I found.
The first thing you need to do is install this. It is in the WordPress.org repository so you can simply "Add New" plugin, search for P3 (Plugin Performance Profiler) and install it. A new entry is added to your Tools menu in your Dashboard (it is labeled P3 Plugin Profiler). Selecting this item brings you to a similar screen to mine: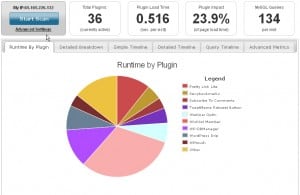 (You can click this image for a larger view)
From this, charat I can see that the time consuming plugin is a copy of Wishlist Member that I am testing out (Sneak preview… a really cool WordPress Membership will be coming soon! Leave a comment below to get entered into a drawing for a free 3-month membership – but do NOT mention the membership site 🙂 )
This information is useful because you can tell which plugins are dragging down the load time of your site. If you have a slow plugin (or a resource intense plugin) and you do not see a lot of value in using it, deactivate it and delete it!
In my case, I am going to rethink where I want to install my membership plugin. Seeing as everyone that comes to the site will not be a member, there is no need to have it loaded for everyone!
Once you have optimized your system using P3 (Plugin Performance Profiler), take a peek at the post I wrote about Pingdom tools to obtain even more information about your site's load times.