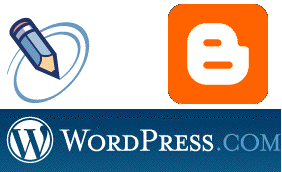 Have you ever used blogger? I am referring to www.blogger.com. Blogger.com and LiveJournal.com are some of the best-known blogging websites on the internet.
Unfortunately there is one MAJOR drawback, you don't own the website. At any time blogger can delete your username and profile. Lots of work and effort poured into someone else's websites is not what you want to do. It is not in your best interest. This is the perfect example of how no business built on Blogger or LiveJournal.com is actually yours. These blogs generated income in the order of about $500 -$3350 per month. This income included a collection of Adsense and Commission Junction revenue.
Unfortunately, both Blogger.com and LiveJournal.com reserve the right to kick you off. Only a website put together with your own pages affords you a viable business that you own. You should never put your business and hours and hours of your work into a website you do not own and cannot control.
Features and Benefits of WordPress
There are also not a million other files for you to upload. This system is easy to download, and easy to upload to your own personal websites. WordPress is built to W3C standards for XHTML and CSS. These features make WordPress code easier to manage and easier to render in standards-compliant browsers. Non-compliant browsers are made compliant with only a few changes.
WordPress websites also have some very positive features like themes, non-compiling changes to the website and the ability to utilize plugins. The most positive factor in the WordPress utility is that you do not need to know php. With many blogging systems you often need to know how to program. With Blogger, I spent hours embedding Google ads in the pages. Also when I made changes I had to recompile the script or "rebuild" it. This took time while I waited. Imagine how much time you can spend "rebuilding" dozens of blogs! In each blog I modified each blog and linked it to my central website. Linking blogs that get regular traffic is a technique called "hub and spoke" theory.
In this scenario, you have to see how you can arrange your blogs to produce traffic for a central website. This is an excellent tool to produce income for your business. WordPress has the potential to be the perfect tool for your business to generate an average level of traffic to a central website.
The relative advantages are:
You don't have to know php.
You don't have to know how to program at all.
You don't need to use the WordPress hosting service. Although this is offered, it is not necessary.
WordPress has aggregator support for standard RSS configurations. This has already been done with Atom.
WordPress automatically connects and configures with MySQL with virtually no effort.
Being built to standards increases WordPress's longevity and future internet adoption
WordPress automatically imports images.
The WordPress template has built-in links added in the template.
WordPress allows for the customization of metadata.
WordPress allows customized styling for printing.
WordPress allows the administrator to design headlines.
WordPress allows for categories.
WordPress allows for customization of the sidebar.
WordPress allows for customized RSS Feeds.
WordPress allows for customized forms.
WordPress allows for basic blogging posts.
WordPress allows archiving for posts.
WordPress allows for contacts in the template.
WordPress allows for an "about" page.
WordPress allows for the styling lists and is built with CSS