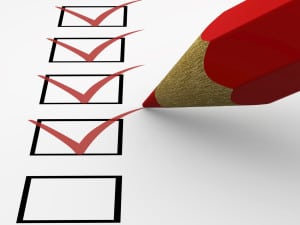 Once you've installed WordPress, the work to get your website created is just beginning. There are many tweaks, modifications, and settings to take care of. Each step along the way helps ensure your site is unique, easy for your audience to navigate, appealing, and of course, effective and profitable.
Although the list may seem like it is a lot, these are the 'little things' that will make your site stand out from all the others. After all, who wants to see the default 'Hello World' post on a website. Or how about the 'Sample Page'. One of my personal pet peeves is the tagline, "Just another WordPress site." Who wants to come to your site if it looks like it isn't set up yet, or if it appears that you do not care enough to make the site your own?
With that said, here is a checklist of 10 items that you should complete before you set your site out upon the world!
Remember  – your site is a reflection on you as a person or your business. Take some pride!
#1 I've cleaned the default site:

I've deleted all default posts and links including the "Hello World" post, and "Sample Page."

I've deleted default categories and tags and created relevant categories and tags, including Description text for each. I've changed the "Uncategorized" to something useful and searchable.

I've deleted or deactivated default plug-ins that I'm not using.
#2 I've selected my theme:

I've Installed my chosen theme and header image or I've hired a designer to create or modify a theme. My theme has been activated as well.
#3 I am ready to track my numbers:

I've signed up for a Google Account and followed the wizard to create analytics code for my blog. I've installed analytics code in the header.php area on my Appearance Editor in the dashboard of my blog.
#4 Feed Burner is ready to go:

I've set up a feed burner account with my Google account as well so that I can track subscribers and provide RSS options for my readers.
#5 I've chosen, installed, activated, and adjusted the settings on relevant plug-ins to enhance the productivity and effectiveness of my blog. I've researched:

Social media – stay connected with the social media sites that you find are important for your niche – each niche may have specific social media sites.

Comments – do you want to email folks every time a comment is made? Do you want to keep everyone informed when a new comment is posted?

SEO – Search Engine Optimization – there are many plugins to help with search engine optimization. Research which one is best for you and your site.

Search/Map – There are 2 kinds – one for the search engines and one for real visitors coming to your site. Do you want one or the other on your site? You might want both!

Branding – is it important for you to brand you (or your site)? Do you personally want to be recognized for your work in your niche, or is it more important for people to remember your website or company?

Favicon set – a favicon is the little icon that shows up in the address bar of your website – it is a nice touch that many sites have and helps with the branding of your site. Depending on your theme, this may be able to be set in the Customizer and then there is no need for an additional plugin.

Subscribe options – similar to the functionality of the comments plugins referenced above. You can have RSS feed plugins and more. Determine what you think will work best for you and test it out! (This goes for ALL the functionality listed here).

Email list building – This can happen via plugins or widgets. You may have integration on each post or page, or it may be a simple squeeze page.

Advertising, i.e. Pay Per Click or AdSense. If you are advertising on your site, you may find it helpful to have a plugin that rotates your ads automagically for you.

Backup systems – I can speak all day about backing up your site. In fact, I have had many posts already that deal with backing up your site.
#6 I've modified the general settings to match my needs and goals including:

Title

Tagline

Set Your URL to WWW (or not)

Membership / Registration

Time zone

Allowing Comments or Not
#7 Permalink Structure:

I've set up a permalink structure that looks professional and is easy to understand and link to, Most likely, you should use the Post Name" instruction so your URLs are like http://www.sample.com/sample-post
#8 Security:

I've taken steps to protect my blog, including creating a unique password to log in and a log in lockdown if someone repeatedly tries to log into my blog without the correct information. Deleting the "Admin" account. Deleting the "log in" option from my site's main landing page menu.
#9 404 – Not Found Error Page

I've created unique 404 error pages to help brand my blog and guide visitors when they reach a dead-end on my blog.
#10 I've created a blog page structure that supports my business and my visitors. These pages include:

  About the website

  Privacy policy – there are plug-ins that can help here

  Terms and conditions

  Disclaimer
Once you're all set, test your blog while logged out and verify that your pages display properly on a wide variety of browsers including Chrome, Firefox, Internet Explorer (gasp!), Safari, and mobile devices.
If you have any questions, or need some help setting this all up, give a yell – we can help get this handled for you – reach out via our contact form.
[Note this checklist was updated February 2022.]