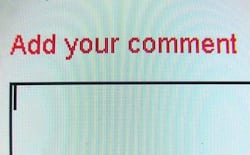 So, you have your WordPress blog installed, set up, and you are blogging like a true Blogger! Awesome!
Before you know it, someone is going to leave a comment on something that you have written! The first time this happens, you should probably call your Mom and thank her for leaving the comment on your site 🙂
Seriously, when someone that you do not know first leaves a comment, it is a wonderful feeling of validation. You have written something that a complete stranger has:
Discovered in your little corner of the internet;
Read what you wrote; and,
Spent time to respond to by leaving a comment for you!
It really is an awesome feeling when that happens. In fact, even as comments continue to come in, it is STILL a great feeling to see that there are people out there coming, reading, and replying to what you have to say.
Since this is nice, you should acknowledge the person by commenting back to them. Think of it as common courtesy. After all, if you left comments on someone else's blog and you never heard a word back from them, would you continue to leave messages there? Probably not! Why would you expect other people to be any different?
With the Thanksgiving season upon us (here in the US, that is), be thankful for the folks that come to your blog. Expressing your gratitude and thanks is a whole other topic (and blog of mine! All About Gratitude) – when you do so, there is a better chance that they will come back and do it again!
The next time someone leaves a comment, take the opportunity to reply back to 'em!