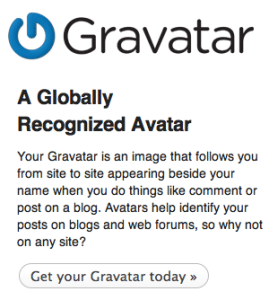 [Note: this post has been updated – the content is too good and important to simply delete!]
Even if you do not know what a gravatar is, you need one! Every round of the Ultimate Blog Challenge, folks always ask about how they can have a picture of themselves appear when they leave a blog comment. You may have seen sometimes people's images appear and other times it is just a shadow image that gets displayed.
Let me say that if you are commenting on other people's sites, you SHOULD have your avatar in place! You need to be recognized all over the web! In my opinion, if you want to be serious online, you NEED to have an avatar.
In order to get your image to appear, you only have to do a trivial amount of work! Once you complete this work, your image will show up every time you make a blog comment on this site, or any other site as well! WordPress handles this display automatically. WordPress, however, does not store your image.
You see, there is a simple service that handles this. Set your picture once, and when you post on any other blogs, your picture (or more technically, your avatar) will automatically show up!
Avatars are those little user pictures that you see on Twitter, Facebook, instant messenger programs, and blogs. They are all over the internet. An avatar is a computer user's representation of himself/herself or alter ego whether it is an actual picture of the person or a representation of something (or someone) they like.
Gravatar… Avatar… Same Thing
If you would like to try this out (and it is free) and create an avatar for yourself to use, head over to http://en.gravatar.com/. Gravatar is a central service where people can choose a provided avatar or upload their own so that they can be associated with their e-mail addresses whenever they post to a blog.
Avatars also will appear on the blog you run, unless you turn them off in this section. Keep in mind that the theme that you are using may or may not support displaying avatars. Most themes that do support avatars display them only in comments, and not for a post or page authors.
If you allow avatars, you have the power and control to allow (or disallow) certain avatars that appear on your blog. WordPress automatically interfaces to Gravatar (gravatar.com). Over at  Gravatar, they use a rating system similar to the MPAA system for movie ratings: G for child-friendly images, PG for audiences over 13, R for audiences over 17, and X for explicit images. The good news is that by default, only the G-rated will be displayed on your website.
You can set this in Settings -> Discussion area of your Dashboard: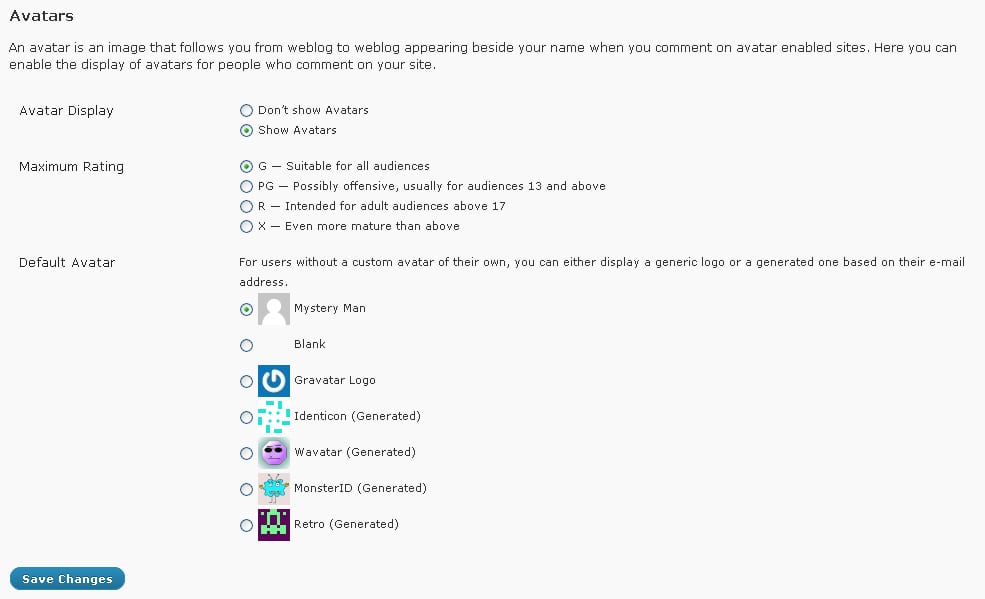 (You can click the image to get a bigger picture)
You also get the option to choose the image that's used for comment authors who don't have a Gravatar set-up or associated with their email address. The options include several generic settings (Mystery Man, blank, Gravatar logo), as well as 4 random identities: Identicon, Wavatar, MonsterID, & Retro.
Mystery Man, blank, and the Gravatar Logo will all show up like the icon that is displayed there (boring!) Identicons are geometric patterns that are computer-generated. A unique pattern will be assigned to each commenter's e-mail address, so the same pattern will be used every time they comment. MonsterID uses the same concept but draws images of monsters instead of geometric designs. Wavatar assembles avatar images from a pool of pieces (faces, eyes, noses, hair), rather like assembling a Mr. Potato Head toy.
By using Avatars, you can give your readers/commenters a little bit of an identity when they comment on your blog.
Try it out – get your own avatar and see how it shows up when you leave a comment. Once you understand it, change up your settings on your blog!
For extra credit 😉 leave a comment below after you set up your avatar and see if it shows up!
Note: For the sake of clarity, this post was previously published and has been updated.