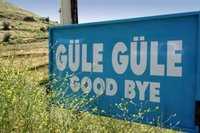 As a Blogger and Internet Marketer, I have many domains and many websites.
"My name is Paul and I am a Domain Name Buyer."
I certainly am not as, um, ambitious (it that a friendly enough word?) as some of my friends and peers. You can count the number of domains I have on both hands (and if I include the hands of a handful of friends and their families!) – let's just say that I have a lot of them!
I would say the majority of them are active sites, not just domain names that I purchased; they are being used!
And I feel good about that.
(In a weird way, I still feel like I am trying to justify them… oh well, that will be a post for another day…)
Well the point I wanted to make is that I just let one of my site go as well. When the domain renewal came up, I did not renew it. I did not see myself doing anything with it.
I was not into it. Blogging on it felt like I was forcing it. It was in a niche I did not know much about (and my 'expert' partner was no where to be found).
I contemplated that 10 bucks was not a lot to keep the site alive, but when I considered the time and effort (and the guilt of NOT working on the site), I let it go.
And now? Well, now I hardly miss it!
I feel better now.
Do you have some sites that are holding you back? Set them free! By doing so, you will set yourself free! For 2014, see if you can whittle down the list of domains you have parked and are not using them.
(This post was recently recycled. It originally was written back in 10/2011, but the timing seemed right to update and republish it!)