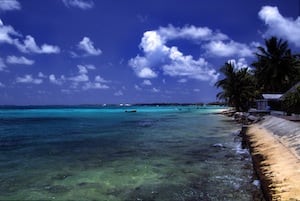 Quick! Do you know where the country of Tuvalu is located? OK, let me ask another question… Did you ever HEAR of the country called Tuvalu?
Tuvalu, formerly known as the Ellice Islands, is a Polynesian island nation located in the Pacific Ocean, midway between Hawaii and Australia. For most people, they would never know about it. However, if you ever register a .tv domain (to house your video website, let's say), .tv is the domain for Tuvalu (just like Britain has .uk; France has .fr; and so on).
Do you have a .tv domain name? More and more people have one and they are using it as a video blog. A video blog or video log (sometimes shortened to vlog) is a form of blog for which the medium is video, and is a form of web television.
On Monday, Amazon said it would pay $1.1 billion for a website that streams people playing video games. The website is called Twitch — but its address is not Twitch.com, but Twitch.tv. It's a distinction easily overlooked, but one that highlights an inexorable shift in how people — especially young people — consume video.
In an article titled, As Online Video Surges, the .TV Domain Rides the Wave, they point out the significance of video on the web today and how this domain extension is a big part of it:
There are several examples of major organizations that rely on the .tv domain as the home for video content. Among the most prominent is MLB.tv; the address has been the home for baseball's paid streaming video offerings dating back 12 years, when the service streamed a Texas Rangers-New York Yankees game to 30,000 fans. FYI.tv streams programming for a newly branded cable channel owned by A&E Networks. Another recognizable brand is Redbull.tv, a web video enterprise owned by the beverage company that streams extreme sports and live entertainment.
Noam Cohen of the NY Times
Do you have a .tv domain? Share it below in the comment section!