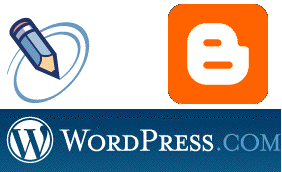 There are several free blogging platforms that you can create a blog on - you might be using one of these:
Blogger.com,
WordPress.com,
LiveJournal
or another blog platform?
The price is right for these free sites, so if money is really an issue, you might want to consider one of them. Be advised, however, that nothing is truly free  and a price must be paid. While it is not a financial price you are paying, there are some things you should know about them.
For starters,  did you know that in some cases you give up the right to keep that content exclusively on your website? What this implies is that the content that you write - your posts, your pages, and anything that is contained on yhour site - can be used in a way by someone else that you might not appreciate. It could be used in an advertisement, it could be used  as an example, or it could be used for anything you can image.While it sounds like you are getting 'free publicity' yo verywell might not get credit for your work!
In the Terms of Service for Blogger.com (owned by Google), it states:
By submitting, posting or displaying Content on or through Google services which are intended to be available to the members of the public, you grant Google a worldwide, non-exclusive, royalty-free license to reproduce, publish and distribute such Content on Google services for the purpose of displaying and distributing Google services. Google furthermore reserves the right to refuse to accept, post, display or transmit any Content in its sole discretion.
Is this good or bad? That is for you to decide.
The benefits to having your own website (known as a self-hosted Blog) include the following:
When you host your website, you will always be in control of all of your files and data. On the other hand, when you use one of the free services, you do not have the same freedom to access, download, or backup your data whenever, and where ever you want.
No one can legally copy your content without your permission.
Your website name will probably be easier for people to remember. Which would you prefer to give out? www.YourSite.com or www.YourSite.blogspot.com - granted it is not a huge difference, but it is shorter!
Hosting your own website is more professional. Having your own site demonstrates that you are serious and that what you are doing is not just a passing activity for you.
The only ads that show up are the ones you want! I went to read a blog over at LiveJournal and had to view a car video before I was directed to the post. Who knows what ads can pop up! Do you want your readers to experience that?
Speaking of ads, if you want, you can sell ad space on your website and YOU earn the money, not the hosting service! You can actually make some money while you have fun with your site! I talked about this for 2 hours one night with my private coaching students!
Yes it is true... hosting your own blog does require a little of technical knowledge. If you are not up to the challenge technically, you can get some help. In either case, it is worth the effort. When you convert over, you will have complete control, and flexibility to do what you want and even become profitable.
If you need help, I will help you! Actually, as part of my Fourth of July Help-A-Thon, I will convert your site for FREE (for the first 10 people that request it).
It's really simple. I will install and set up a WordPress blog for you at no cost to you. Not only that, I will also install for free the following plugins to get your blog started on the right foot:
An SEO Plugin - the ultimate SEO plugin for WordPress and will help your blog rank higher with the search engines. In addition, I'll set up your new blog with search engine friendly URLs.
An AntiVirus Plugin - you can never be too safe!
A plugin that will help get your blog pages indexed quickly on Google.
Another plugin that will allow people to send you email, without publishing your email address to the world!
In order to make your blog load a lot faster and handle more traffic, a special plugin will handle this
A plugin that will encourage readers to comment on your blog.
Kill off the comment spam that shows up on your site with this plugin
Your site will be accessible via mobile user  using their SmartPhones to access your site easily!
A plugin to help you pages and post go viral on Facebook
These are some of the best WordPress plugins available and they're included free with the WordPress installation service.
OK - What's The Catch?
None! Nada. Zippo! There is no catch. This program is being sponsored by HostGator. HostGator hosts all my blogs and they are actually paying me a commission to do this. If you were to pay someone to install WordPress and the plugins for you, it would cost you at least $150.
To qualify for my free WordPress Transfer Service, all you have to do is order a web hosting plan from HostGator. You can get hosting for as little as $0.01 for a trial month or  just $3.71/month with a 3-year pre-paid account. You MUST also use coupon code HelpWithWordPress to get 25% off the full price of hosting (this is better than their code that they provide, so make sure you enter HelpWithWordPress). This is my affiliate code which will allow me to get the commission which makes it feasible for me to set up your site. (If I do not get a commission from HostGator, then this offer is not valid).
Once you sign up using this link, HostGator, and entering the code HelpWithWordPress (so you save some money and I get the commission), send me an email via my contact page and I will get in touch with you real quickly (Less than a day). I will then install WordPress on your site, optimize it, and finally transfer your current blog over to your new site! The beauty of this is that you can retain your original site and have your new site up at the same time. If you cancel and change your mind, nothing is lost!
If you're ready to start blogging on your own site,  head over to HostGator, order your hosting plan, contact me with your info and I'll get you started.