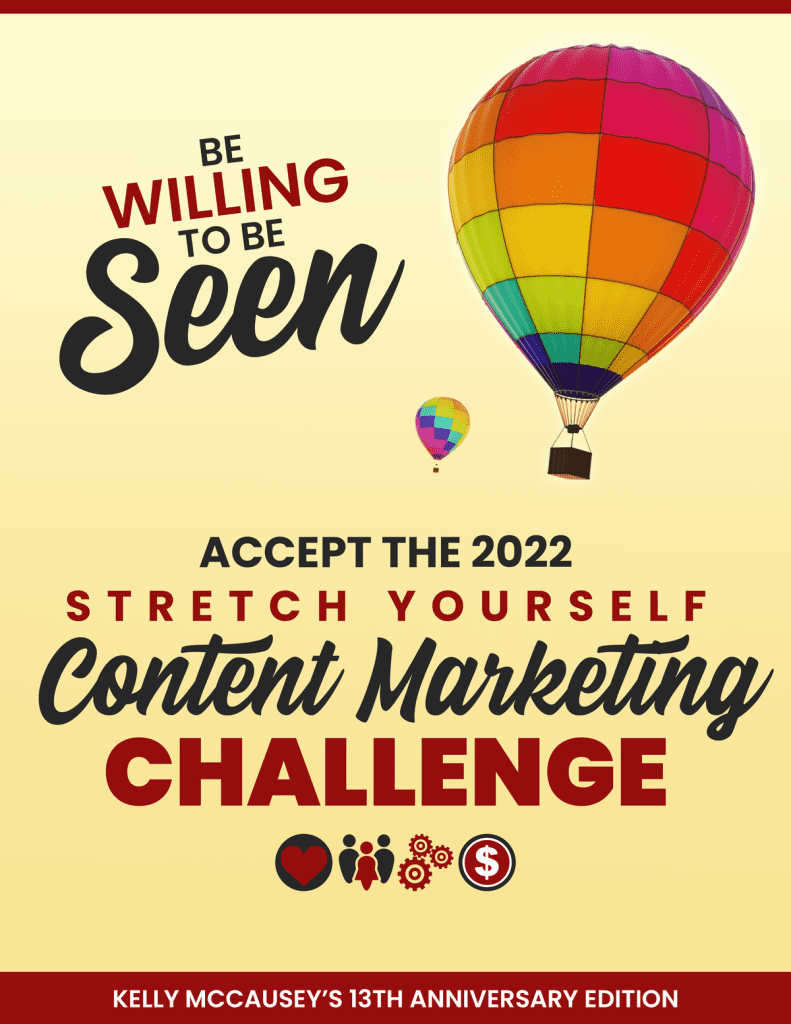 The Stretch Yourself Challenge 2022 is getting ready to start up soon! Are you in?
Stretch Yourself Challenge
As you probably know, the Ultimate Blog Challenge just finished up yesterday. I used my gratitude website, All About Gratitude, this quarter and wrote every day during August.
Another challenge in the books. Another stretch completed. You see, writing does not come easily for me so by not only running the Challenge, I participated in it.
As the saying goes, "When one door closes, another door opens." Time to open my next favorite challenge of all time – Kelly McCausey's Stretch Yourself Challenge! I am happy to say that I just registered and signed up!
What is the Stretch Yourself Challenge?
Another good quote that I like is, "If you want to get something done, give it to a busy person!"
Every year, the Stretch Yourself Challenge (SYC) is organized by my close friend Kelly McCausey. I've been taking part in her challenges for many years now. For me, it's a chance to be held responsible for doing something I know I should do but have previously put off. It is easy for me to say, "I am overly busy. I need to do client work. I am too preoccupied working IN my business to work ON my business." "Yes – I need to do this. Yes – I want to do this. Yes – I will get this done!"
The Challenge has an awesome guide that outlines about 20 or so different challenges you can complete. You can do 1, 2, 3, or all of them  – the choice is yours.
In the past, the Stretch Yourself Challenges included:
Challenge #1: Share Your Expertise & Promote It Like Crazy!

Challenge #2: Create A Collaborative Blog Post

Challenge #3: Tackle A Dedicated Affiliate Promotion

Challenge #4: Tackle A Content Refresh

Challenge #5: Hold a Webinar or Teleseminar To Grow Your List

Challenge #6: Host a Facebook Live Series

Challenge #7: Offer & Host A Group Coaching Intensive

Challenge #8: Create a Small & Mighty Gift Report

Challenge #9: Make an Intentional Connection

Challenge #10: Start A Facebook Group

Challenge #11: Gather & Publish Testimonials

Challenge #12: Host A One Day Virtual Summit

Challenge #13: Choose A Live Event To Attend

Challenge #14: Volunteer/Apply To Speak Live

Challenge #15: Participate in a Bundle Sale or Giveaway

Challenge #16: Set Up A Tripwire Offer

Challenge #17: Start a YouTube Channel

Challenge #18: Offer An Open Phones Day

Challenge #19: Publish A Kindle Ebook
Should You Join the Stretch Yourself Challenge?
In a word, YES!
You can see that there are lots of chances to step outside your comfort zone! There's no need to worry because Kelly provides a comprehensive 150+ page guidebook to lead you and assist you in achieving your objective (s). And if that wasn't enough, you can rely on the support of a large community while you journey. It is one of my favorite places to hang out and socialize with people!
Year after year, I return to the challenge as I mentioned previously, the SYC "forces" me to accomplish things that I know I should do but put off. For this reason, I suggest it. I like that I am publicly assuring the neighborhood that I will be carrying out this action. I enjoy the difficulties as well as the support. I also enjoy the person I've become on the way!
Check out the Stretch Yourself Challenge. When you do sign up and join the community over there, come to say hi! Let's do a challenge together!
Bonus Offer if you sign up for the Stretch Yourself Challenge
Here is how much I think this is worth it for you – I will further entice you to join Kelly's challenge (of which I am an affiliate). When you do so, I will be happy to gift you access to 2 months of the WordPress Inner Circle Academy. During this call, I will answer questions dealing with challenges you might be facing with the challenge, questions about how to improve your website, discuss marketing strategies, or even plan how to gain more visibility. You have a choice! Click here – Stretch Yourself Challenge and let's get started!