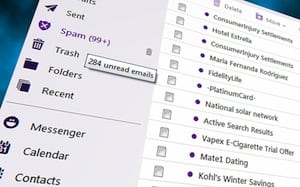 Today's post is more of a personal nature – it is not directly related to WordPress, yet it deals with something that we all are engaged in.
Being Online.
I think that it is important enough to each person on an individual basis, that you should stick around and read through it!
I am surprised at home many people fall prey to phony emails. I don;t think it is an issue of being gullible, more more an issue of simply not knowing.
Perhaps it is a generational thing. Perhaps not.
In any case, here are a list of scams that are floating around; you may have even seen one or two of these!
BBB Warns of an Email Phishing Scam
The Better Business Bureau is warning consumers about a new email scam designed to steal your money. Be on the lookout for an email claiming to be from someone you know who is stuck in another country. They are asking you to give them a loan to pay for their hotel bills and airfare home and request that you respond via email.
Beware of Osama Bin Laden Email Phishing Schemes
The death of Osama bin Laden has garnered attention and interest around the world. Unfortunately, major news events like this one often bring a wave of phishing scams designed to collect your personal or financial information without your knowledge. Phishing scammers use email or malicious websites to solicit information by posing as a trustworthy source. For example, a scam may send an email that looks like it's from a reputable news organization with links to photos or video when, in fact, it takes you to a malicious website or downloads harmful viruses onto your computer.
Don't Open Bogus Email that Claims to Come From the FTC
A bogus email is circulating that says it is from the Federal Trade Commission, referencing a 'complaint' filed with the FTC against the email's recipient. The email includes links and an attachment that download a virus. As with any suspicious email, the FTC warns recipients not to click on links within the email and not to open any attachments.
E-mail Claiming to Be From the FDIC
The Federal Deposit Insurance Corporation (FDIC) has received numerous reports of a fraudulent e-mail that has the appearance of being sent from the FDIC. The subject line of the e- mail states: 'check your Bank Deposit Insurance Coverage.' The e-mail tells recipients that, 'You have received this message because you are a holder of a FDIC-insured bank account. Recently FDIC has officially named the bank you have opened your account with as a failed bank, thus, taking control of its assets.'
E-mails Containing Threats and Extortion
The Internet Crime Complaint Center has recently received information concerning spam e-mails from 1wayout@myway.com threatening to assassinate the recipient unless the recipient pays several thousand dollars to the sender of the email. The subject claims to have been following the victim for some time and was supposedly hired to kill the victim by a friend of the victim. The subject threatens to carry out the assassination if the victim goes to the police and requests the victim to respond quickly and provide their telephone number.
FTC Warns Consumers About Bogus E-Mail That Claims to Be From Agency
Consumers, including corporate and banking executives, appear to be targets of a bogus e-mail supposedly sent by the Federal Trade Commission but actually sent by third parties hoping to install spyware on computers. The bogus e-mail poses as an acknowledgment of a complaint filed by the recipient, and includes an attachment. Consumers who open the attachment to this e-mail unleash malicious spyware onto their computer.
Gmail Phishing Attack
US-CERT is aware of public reports of a phishing attack that specifically targets US government and military officials' Gmail accounts. The attack arrives via an email sent from a spoofed address of an individual or agency known to the targeted user. The email contains a "view download" link that leads to a fake Gmail login page. The login information is then sent to an attacker.
Mass Marketing Fraud
A few decades ago, mass marketing fraud – the kind that exploits mass communication techniques like bulk mail or telemarketing – was relatively low-tech and mostly a regional crime problem targeting victims nearby. These days, it's a different story. Thanks to the Internet, criminals and crime groups can also target victims halfway around the world, blasting out spam e-mails by the millions and setting up phony but realistic websites to lure people in.
Sham Site Is a Scam: There Is No "National Do Not E-mail Registry"
Have you submitted your e-mail address to a "National Do Not E-mail Registry" that promises to reduce the amount of spam (unsolicited e-mail) you receive? If so, you are the victim of a scam, according to the Federal Trade Commission (FTC). The web site at "unsub.us" mimics the language, look, and navigation of the Web site for the National Do Not Call Registry, a legitimate free service of the federal government. The "unsub.us" site is not run or authorized by the FTC and is concerned that the "unsub.us" site could be part of a high-tech scam that uses a deceptive Web site to trick consumers into disclosing their e-mail address or other sensitive personal information.
Spammers Continue to Abuse the Names of Top Government Executives by Misusing the Name of the United States Attorney General
As with previous spam attacks, which have included the names of high- ranking FBI executives and names of various government agencies, a new version misuses the name of the United States Attorney General, Eric Holder. The current spam alleges that the Department of Homeland Security and the Federal Bureau of Investigation were informed the e-mail recipient is allegedly involved in money laundering and terrorist-related activities. To avoid legal prosecution, the recipient must obtain a certificate from the Economic Financial Crimes Commission (EFCC) Chairman at a cost of $370.
asdf