I am at home today recovering from a surgery I recently had last Friday – that is why I have been on the quiet side lately. No heavy lifting for the next 4-6 weeks! Yikes! That is a long time for me!
I can't do a whole lot other than some typing, reading, sleeping through movies, and taking it easy. The pain pills make the pain bearable, so I take them like clockwork!
I've lined up a few books to read (including, Fatal System Error, a true story about computer hackers). I also rented a couple of movies (State of Play, and the classic, Scarface!). One thing I just ordered this morning was Darren Rowse's 31 Days to Build A Better Blog.
Let me tell you about 31 Days to Build A Better Blog. Once I started reading the original version, I knew it was worth its weight in gold! Darren has revised and updated it for 2012 and I can already tell it is even better!
31 Days to Build A Better Blog is a fantastic book from the founder of Problogger.net, Darren Rowse. 31 Days to Build A Better Blog is a downloadable e-book designed to help you revitalize your blog by giving you 31 tasks that will all help to turn it into the page view powerhouse you've always dreamed of.
If you are new to blogging, or have a lot of experience with it, you need to read this! This is not some "Shelf Help" book! This has actionable items for you to do – easy to follow steps. The idea is that you can achieve the results you want by following a set action items specifically laid out for you Day by Day!
The 31 tasks given in this book will exactly teach you how to build a successful blog in just 31 days time.
By the end of reading 31 Days to Build A Better Blog  you'll have:
  written a variety of different types and styles of posts
  learned techniques for coming up with new post ideas
  promoted your blog in a variety of ways
  built relationships with readers
  reached out to and developed working relationships with other bloggers
  developed an editorial calendar for your blog going forward
  discovered ways to be more connected to your niche/topic
  designed a plan for the next month of your blogging
If you have not read this fantastic book yet, I highly recommend you to get a copy for yourself! If you already have the original version, I recommend you go take a look at the 2012 version. After all, with a full 60 day guarantee, you should at least check it out!
By the way, when you do get it, let me know what you think! I would love to chat about it!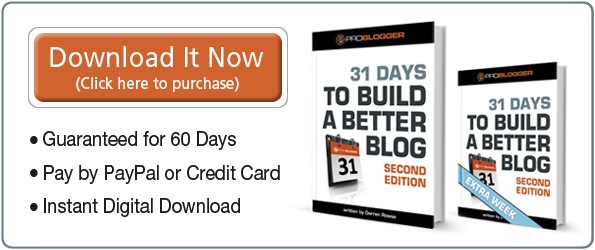 Have fun blogging!
Paul.
PS – 31 Days to Build A Better Blog is currently on sale (25% off!) as of the writing of this post!