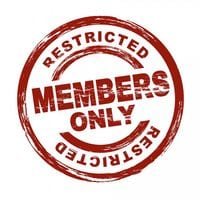 I received a few inquires about creating a membership site after yesterdays post, Your Own Membership Site.
If you're interested in creating a special area on the web where only your members or clients can get access to premium content and products that you make available to this select audience then you likely want to create what is called a membership website.
There are various ways you can create a membership website but one of the easiest, affordable and most popular methods for creating a membership website is with the WishList Member plugin. This plugin is designed specifically for use on websites built using the website content management system (CMS) called WordPress.  A plugin is essentially software that improves the functionality of a CMS like WordPress.
So instead of spending thousands of dollars to have a programmer create a custom solution for your membership website, you can spend in the range of $100 for a plugin that can turn your website into a destination for your audience where they might:
Download videos, ebooks, or other products only made available to those who have purchased or secured your membership
Access a private forum for discussion
Deliver courses online to members only
Read blog posts written specifically to address the needs of the particular niche being served by the membership site.
The examples above all have something in common – there is something of value being offered to individuals who have secured special access to this material. Time and effort goes into preparing this content and a decision was made by the owner not to package the content and sell on the open market but instead to make it available only to individuals who agree to become members of a membership group operated online.
Selling in this way is made possible by technology that creates a paywall protecting content behind that paywall and granting access only to those who've paid the appropriate fees. The degree of access granted may depend on the level of membership purchased.
For example people who pay the most in your membership might get access to more materials and content then people who pay for a less expensive membership level.  By offering different levels of membership business owners are essentially creating different "groups" of membership that are distinguished from each other based on perks associated with each group or membership level.
WishList Member provides an easy user interface that allows membership website ownesr to easily set the terms and criteria for creating membership levels, registering new members and protecting content. These three activities are the core actions involved in creating an online membership program that is managed by WishList Member.
If you would like a Step-by-Step course that teaches you exactly how to get up and running with your own membership site, come join Geoff Hoff and me over at Create Membership Sites.