Note: This post was written previously and has been updated with new information.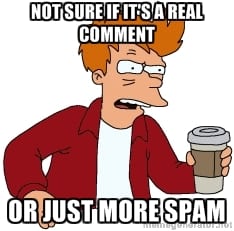 You may (or may not) know that you can automatically send comments left on your website to the spam list if they contain certain words. I have been maintaining a list of words that I have gathered over the years and been sharing that with my private coaching clients.
After our last coaching call, I decided to do some research to find a more encompassing list, and of course, I found one! The internet is a great place to find things. While my little list had about 250 words, I found one that currently has 14,000+ words! (Update: As of Aug 2016, there are over 22,ooo words and phrases!)
Grant Hutchinson has provided a very comprehensive list over at https://github.com/splorp/wordpress-comment-blacklist/blob/master/blacklist.txt – in fact, this list (currently) has…
identified over 13,000 phrases, patterns, and keywords commonly used by spammers and comment bots in usernames, email addresses, link text, and URIs. This blacklist is an ongoing work in progress and as such, there is always room for optimization and improvement. Suggestions and bug reports are certainly appreciated.
Grant Hutchinson
You can download the file and simply paste all the words in the Comment Blacklist area (Log into your WordPress Dashboard, go to Settings, then Discussion, and then to the Comment Blacklist area).
If that seems like too much work, there is actually a plugin that will do this for you!
There's a Plugin For That!
Comment Blacklist Manager
This plugin will check the global comment blacklist on GitHub multiple times a day. Whenever new anti-spam values have been added to the global list, Blacklist Updater will read the global list and update your WordPress database accordingly. While the check-up process will run several times a day, the plugin will only update the database when it detects an actual change of the global comment blacklist on GitHub.
And right now, I am off to go check out how good that plugin is! I will let you know what I find out!