In continuing with the SPAM theme from the post SPAM and Your Blog, I want to discuss how the spammers leave comments on blogs, specifically, your blog! I have seen many blogs that have comments that 'look' like comments, but in actuality are spam comments.
Take a look at these actual comments left for on my blog (you can click the picture to enlarge it):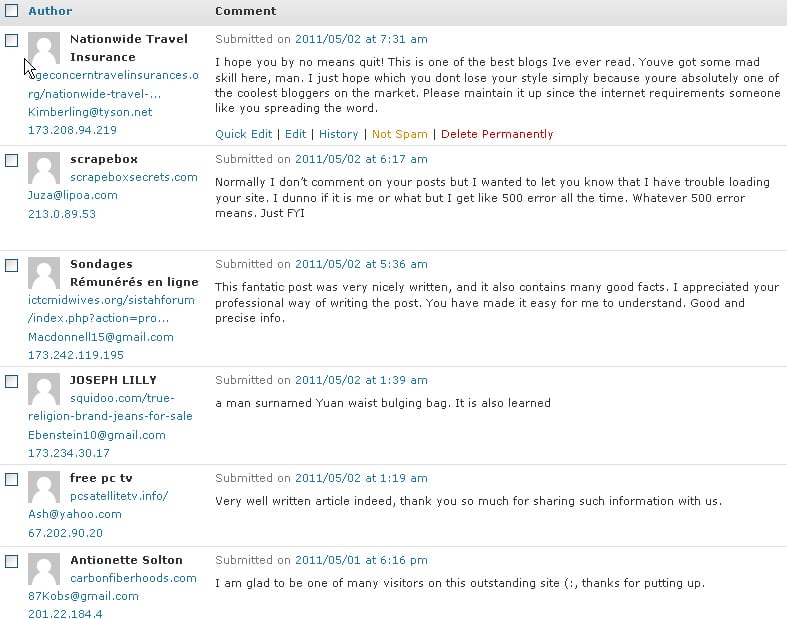 So what's the point? Why do people leave these comments? The truth is that they probably were not left by a person, rather, they were left by robots (or programs) that search our blogs where they can leave comments.
One of the reasons that people leave comments is so that they can get backlinks. As Wilkipedia states, "Search engines often use the number of backlinks that a website has as one of the most important factors for determining that website's search engine ranking, popularity and importance. Google's description of their PageRank system, for instance, notes that Google interprets a link from page A to page B as a vote, by page A, for page B."
Since Google likes the links, spammers want to get them out there. One of the 'easiest' ways to get those links is by leaving 'comments' along with  the website they are 'promoting'. As the spammers get more sophisticated, so do the comments as you can see above.
When comments do not relate to anything specifically in the content of the post, delete them. Delete them especially if the URL supplied is suspect.