The Marvel comic movie, Captain America was released yesterday, but the buzz among the Social Media sites started long before that! You probably have been influenced by some of the top social media sites with Captain America promos. Did you realize you were? Think about this – were you aware that the movie is out? Where did you hear about it? Was it only on TV as a trailer for the movie? Or did it come from someplace else?
Face it – social media influences us more than you may thing! Here is an important fact from deadline.com: "Paramount had been expecting Marvel/Disney's Captain America: The First Avenger to open with a $60+M weekend. But the studio on Sunday said the actual total is $65.8 million…." You know the hype was out early for this to happen!
What is about? A short synapses is this: After being deemed unfit for military service, Steve Rogers (played by Chris Evans) volunteers for a top secret research project that turns him into Captain America, a superhero dedicated to defending America's ideals. The movie is directed by Joe Johnston.
So where does they hype come from? Which Social Media sites? Let's take a look, shall we? Here goes!
 In The Beginning
The first teaser for the film, Captain America: The First Avenger premiered during a commercial at Super Bowl XLV. That day, Marvel released the first issue from Captain America: First Vengeance, a digital comic book series. Each issue of the eight-part series, available online and via the Marvel Comics iPad app, focused on a different character from the film. The series ended right at the point when the movie begins.
Social Media points: Not only did this initial campaign hit up comic book fans, but it also hit the commercial watching crowd during the Super Bowl! By releasing the pre-movie  with existing comic book fans, it also used the power of the Super Bowl's reach, online video sharing sites and the iPad to spread the buzz.
Get Going on FaceBook
Going to the official fan page of the movie on Facebook, you can see that a huge following has happened there as well! As of today, there are 950,000 fans! That is a huge reach that this page has been viewed and KEEPS on getting viewed! One poor aspect in my opinion about the Fan Page is that it is only one-way communication! Marvel Comics (the owners of the page) should have allowed fans to comment and discuss the page! Why they excluded this is a mystery to me! This was the perfect opportunity to interact and help build loyal fans!
Social Media points:Facebook is the #1 social media site! Are you on there? It is a great way to connect with your prospects, your clients, and your Fans! If you are not on there, you incorporate this into your marketing plan to be there within the week!
And Then There Was YouTube
The first full-length trailer for Captain America was released on YouTube in March.
Social Media points: YouTube has a huge following! As the #2 Social Media site (preceded by Facebook), this video has had over 2.5 million views! That is a lot of people! You should consider using YouTube for exposure!
Offline Strategies As Well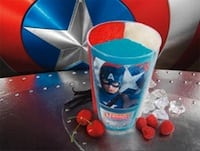 Of course, Marvel Comics also teamed up with primarily Offline Retailers such as Dunkin Donuts! They are offering a three-flavor beverage container. This will increase visibility among the masses by utilizing the television commercials as well as the in-store advertisements. If nothing else, people might try this product simple due to the novelty of it! Meanwhile, the hypnotic suggestion of 'Captain America, Captain America, Captain America' is being 'played' in your mind with every sip. If there is anyone around you, they will visually see the suggestion on the cup!
This also affects the idea of Social Proof! As Wilkipedia defines it,
Social proof, also known as informational social influence, is a psychological phenomenon where people assume the actions of others reflect correct behavior for a given situation. This effect is prominent in ambiguous social situations where people are unable to determine the appropriate mode of behavior, and is driven by the assumption that surrounding people possess more knowledge about the situation.
As I define it,
If you see people doing something, you are more likely to do the same thing!
Social Media points: While you may not have the financial resources to team up with a huge international retailer such as DnD, you can encourage readers to comment on your blog, to Like your Fan Page, and to sign up for your Offers. When other people witness this, they will be more inclined to sign up. There appears to be some unknown magical critical mass when this all starts happening.
If you are not yet using Social Media, now is the perfect time to start! To help you out, I will post about a great way to get started tomorrow!