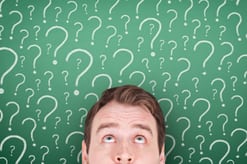 For the most part, I think that I Need Help With WordPress is a technical blog about a technical topic written in an easy to understand way. I know the frustration of not knowing how to do something and trying to figure it out. If I can explain something that I had to do in a way that anyone can understand it, then I have done a good job. Sometimes that happens, and sometimes I miss!
With that said, I often receive questions about content – people want to know about sources of content, what is the best way to write, what is the frequency, and how to research for a blog.
It seems that writing your own content is often the hardest part about running a blog, once it is up and running.. Writing your own content can be broken down into two phases:
•    actually finding related things to write about—and then,
•    writing about them in a way that is both clear to human beings and clear to search engines.
You should begin writing your own content by finding numerous sources of information with which you can work. For instance, let's say your blog is about popcorn. Before you begin writing anything, you will want to aggregate all of the best sources of information on popcorn. You will want to find any (or all) of the RSS news feeds about the topic. You will want to bookmark forums about popcorn. And you will want to bookmark all authority sites and blogs that either talk about popcorn or promote popcorn products; this is one of the most important parts of writing your own content – finding sources.
Have plenty of sources at this point? Perfect! Now that you have aggregated all of the information sources you will ever need, you will want to determine the average profile of one of your blog readers before you begin writing your own content. For instance, is a blog reader going to be someone who wants to purchase popcorn equipment? Is the person a popcorn fan? Or is the person someone who both eats and sells popcorn? You will then use the answers to these questions to develop a format for your blog. By the way, this is just determining who your audience is. Once you have figured that out, you know what you need to write about!
One example of a format for our blog in question is this: you will blog three times each week. On Sunday, you will use the forum as your source of information. Perhaps you will look for news-worthy discussions about popcorn or about the equipment. On Tuesday, you will post again, but this time, you will use your feeds as a source. You will post about the latest information to hit the news about popcorn, or any significant developments in harvesting popcorn. And on Friday, you will post yet again, but this time you might review popcorn equipment; and relate it to a news item.
This being said, it is still important, when writing your own content, that you try to integrate important keyphrases into your posts. For instance, if your post is about popcorn equipments, you may want to perform some keyword research and figure out what keywords would be best to insert in your update.
In the end, as long as your article/post is interesting to your audience, it will be a success. If you optimize the keywords and do your SEO, you can get more traffic. Taking that one more step, when you monetize the site, you can potentially earn some money from it. You need to understand and decide what your goals are, so you know which direction you need to move.
Be Well.