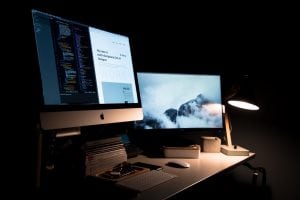 In this article, we are going to be talking about blog techniques and strategies. In yesterday's article (Using Your Blog to Make Money) we talked about generalizations about how the site could operate. This is a sort of a, "Part II" or a follow-up to that article where blog techniques and strategies will be discussed.
While there is a little bit of overlap between yesterday's article and this one, you may find it useful to read yesterday's post first. Who knows, you might find this enough information for you to get started right here alone. The choice is yours!
Blog Techniques and Strategies
With blogs, you have two basic choices… you can open an account with a service like Blogger.com or download and install your own blogging software; you can have someone run the software for you, or you can be self-hosted and have your own hosting account.
Which one you choose depends primarily on what purpose the content of your blog will serve. Also, you have to determine what type of audience you want to reach and how you intend to reach them.
If you plan to promote and operate your blog independently, like you would any other website, you would be better off installing software on your own server. That would give you much more capability (and most likely benefit) with regard to search engine optimization. And while this sounds technical and difficult, it is not that complicated. Installing WordPress has gotten much easier in the recent past.
If, on the other hand, it's more important that you become part of a "community" of blogs that already exist, it would be wise to consider setting up an account with a service like Blogger.com. Keep in mind that this type of site should not be used for business and trying to make an income.
Of course, the main advantage of using a remotely hosted service is the fact that you won't be responsible for keeping the blog running. Everything behind the scenes is taken care of by someone else. Everything is a trade-off in life and the same is true with your website. By giving up the pressure of not needing to take care of the site, you give up the ability to do certain things (like earn an income).  That means, however, that by using your own blog software means you'll either have to install and maintain it yourself or hire someone qualified to do it for you.
On the plus side, you'll have a great deal of freedom when it comes to how you implement your design, layout, advertising, and anything else associated with the workings of a standard website.
Blog Services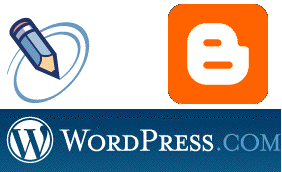 Blogger (free)
http://www.blogger.com
Owned by Google, Blogger is the most widely used blog service. It's totally free and offers push-button convenience for choosing templates and various options which include things like RSS feeds and ping capability. One of the biggest assets – from an SEO perspective – is the fact that Blogger pages do quite well in search engine listings.
Typepad (3 paid versions, free 30-day trial)
http://www.typepad.com
Since Typepad is much more technical than Blogger, it helps if you're familiar with independent HTML coding. With that ability, you'll be able to customize your blog pages to look however you like (you're not restricted to using pre-determined templates). You can also easily add books, music, and other media which take thumbnail images from retailers like Amazon and displays them on your blog pages.
WordPress (free)
http://www.wordpress.com
This is the free online version of the WordPress software (which you download and install on your own server). Although it offers less flexibility than what you can do with the software, you'll have most everything you need for the average successful blog operation. And of course, like all online services, it makes it extremely quick and easy to get up and running.
Blog Self-Hosting Software
WordPress (free)
http://www.wordpress.org
In addition to its online blog service, WordPress offers the software version that can be downloaded and installed on your own server. Currently, it's the largest self- hosted blogging tool and has many desirable features which include ping support, management of non-blog pages, private and password protected posts, and automatic spam protection.
The self-hosted version of WordPress is responsible for more than 27% of the websites on the internet today!
Niche Blogs
One of the most important aspects of any blog is the topic or subject matter. The more popular it is, the more readers and loyal fans it will enjoy.
How do you choose the best topic or subject matter? There's no definitive or easy answer to that question. It depends on your own knowledge and/or passion for any given topic or area of interest.
For the most part, however, you'll want to pick a topic that is not only popular but lends itself well to promoting related products and/or services.
If you have a blog that is focused on dog training, for example, you can easily promote any and all products that are associated with either the training itself or dog supplies in general.
Plus, the type of content you write will determine what type of Google Adsense ads are displayed. As long as you're dealing in a specific niche, you can easily and completely control the keywords that are used throughout the content.
Looking at it from a broader perspective, a niche blog will attract much more targeted readers. And in most instances, much more loyal supporters. They're interested in the topic, they like what you're writing about, and they return on a regular and ongoing basis.
These types of niche-oriented viewers are also more likely to contribute comments and thoughts of their own. And that's exactly what you want… people who not only follow your blog postings but get involved as well.
From a marketing standpoint, you have the ability to promote very specific products to a very specific audience. Assuming you've captured their trust and respect, they'll be inclined to seriously entertain any offer you put out there.
From an SEO standpoint, you'll be attracting viewers through the use of targeted and highly searched keywords. That means they'll arrive on the pages of your blog already interested in the topic (and most often, the product or products that are associated with that particular topic).
The only difference between blogs and the average website is the degree to which you pitch an offer. On your basic website, hard-hitting sales copy is totally acceptable, mainly because it's expected.
With a blog, however, you need to find the right balance between sales pitch and subtle recommendation. It's basically the same way you would promote something within the content of an article. You make a recommendation without the entire article seeming like a paid advertisement.
The blog is the perfect vehicle for letting people get to know you and your business. But it needs to be a gradual process. Allow the relationship to happen naturally and through good quality posts that will prompt viewers to keep coming back.