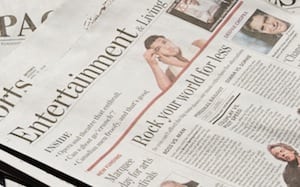 I have said time and again that Content is King! I firmly believe in that. When a visitor sees that you have great content that is useful and helpful, they will come back. Of course, driving traffic to your site certainly helps bring them back – you are collecting names, right?)
I just read an article over at Entrepreneur magazine titled, "Better Conversion Rates Depend on Better Website Design." The article contains some great points including:
Place the important elements above the fold but do not clutter the page. Social proof, navigation buttons, a search bar, sign-up forms, call to action and social media links are website elements that belong above the fold.
To me, this is actually getting more difficult as time goes on. "Over the fold" refers back to the 'old' newspaper days (seems said to call newspapers old…). Wikipedia defines this as, "Above the fold is the upper half of the front page of a newspaper where an important news story or photograph is often located. Papers are often displayed to customers folded so that only the top half of the front page is visible. Thus, an item that is "above the fold" may be one that the editors feel will entice people to buy the paper."
In website terms, it means it is visible on the page and one need not scroll down to view it. What's my problem with this? Well, my 'Above the fold' is probably different than yours. I have a nice big monitor so my fold is different that a laptop fold. Or a notebook fold. Or a tablet fold. Forget about an iPhone fold… See what I mean?
What do you do? Leave a comment below and let us know!