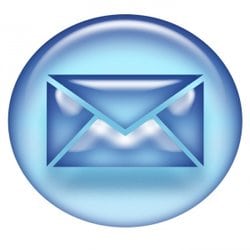 An Autoresponder is a tool that you can use to  automate the process of sending out e-mails in a particular order and are sent at particular time frames.  Email autoresponders will send out a  message (or set of messages) that you specify. When your business is slow or just beginning you may be hesitate to use a tool like this because the good ones aren't free. But rest assured…  as your business grows, you'll find a use and be glad that you have one.
Some web hosts have autoresponders – it is only limited by the number of email addresses your host provides you. However, there is one small drawback to webhost autoresponders – you are limited only to one message per autoresponder, without the possibility of a follow-up email to your prospects. Of course, check with your Hosting Provider – your mileage may vary!
You can purchase autoresponder software. This software can be placed on your computer or you can purchase an online service, and all your information will be stored on the server where you purchased the service. If you go this route, you should be prepared to maintain, upgrade, and monitor the software on a daily basis. If you *think* you are sending out emails, you want to make sure you are!
If you want an easier and more reliable method, you can always use the best email autoresponder  (like AWeber) to handle the software and deliverability issues. I personally have been to AWeber's headquarters, met with many of the folks there, and love their customer service!
Autoresponders can do a lot of different things to help your affiliate marketing business. Autoresponders can:
Collect names and email addresses
Give away free reports, videos, or recorded interviews
Give prospective clients business information, pricing lists and resumes
Provide training
FAQ (if appropriate)
Automatically send your articles to clients and customers
There are many uses (all of which will help you to stay  in contact with your visitors, prospects, and clients). Whether you use a free or paid autoresponder will be directly determined by the growth of your business, your availability to stop on top of the technical requirements of running your own autoresponder – and of course, your budget.
The use of autoresponders is only limited by your imagination and your ethics. Do not go crazy with this tool – it is to be used to help your business – so be aware of spam – and its dos' and don'ts – and this tool will work for you.