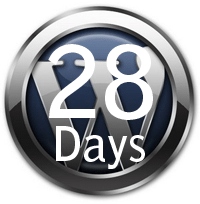 People have asked for it. I started to talk about it! Here it is!
The finishing touches have been made and the course is now ready to be launched!
Executive Summary
It is free! It lasts 28 days. You will learn about the things you need to build a website from scratch. All you have to do is sign up!
Sign up for your FREE 28-Day eCourse to build your website
More Details
This course is designed to help you get started with building a website.It starts off assuming you know nothing and helps you through with all the steps and actions you need to take in order to build a website. Topics that will be included are:
Which platform to use
How to sign up for hosting
Installing software
Customizing your site
Changing the look of your site
Building a list
Making money
Social Media
and more!
If you have some experience with web development, there will be some information you may already know. If you are a beginner, I can guarantee you will learn a lot from this course. In fact, there is a money back guarantee! If at any point you are not happy with the course, let me know and I will refund your entire FREE tuition payment! (That is a little web-humor 🙂 ) I like to have fun when I teach and I have to warn you – there is work for you to do with this course.
If you always wanted to get started, now is your chance. Sign up for your free 28 Day Website eCourse now!